~By Wendy Zangari
I cannot believe the statistics! How could these Priests do this to these defenseless children?  I just want to cry because they will never get back their childhood no matter what the resolve is.
With this new future ahead of us, I want ALL of these children to know that we sit here and pray that justice is served and you retrieve your soul  and unite with it again. We pray for your souls to be cleansed with the new Earth that abounds us.  We give our hearts to you for what you endured and we love you when you cannot not love yourselves. Be at peace my children.
Also, I have added a second article at the bottom of the first article, as the two are related.  The Indigenous people have every right to take their land back, this is their sacred land that was stolen from them many moons ago, they get to rebuild their sacred land and bless the land to remove the curse put upon it.
This is a time where change is going to happen, there will be no more wishing, we are here, in the beginning stages of The Golden Age.
______________________________________________________
Why the Pope must face justice at The Hague~ We survivors of clergy sex abuse have brought our evidence to the ICC so that the Vatican might finally account for its cover-up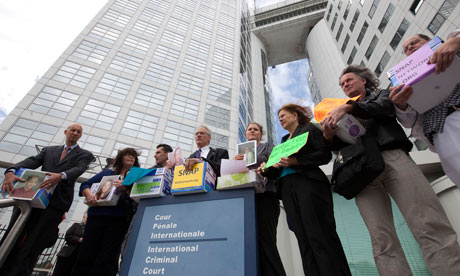 Members of Survivors Network of those Abused by Priests (Snap), including Barbara Blaine (third from right), at the International Criminal Court (ICC) in The Hague, 13 September 2011. Photograph: Rob Keeris/AP
When it comes to holding the Catholic Church accountable for sexual abuse of children by members of the clergy, all roads lead to Rome. That is what my organisation, Survivors Network of those Abused by Priests (Snap), concluded after years of seeking justice in other venues and being turned away.
On 13 September, we travelled to the Hague to file an 84-page complaint and over 20,000 pages of supporting materials with the International Criminal Court, documenting our charge that the Pope and Vatican officials have tolerated and enabled the systematic and widespread concealing of rape and child sex crimes throughout the world.
Holding childhood photographs that tell a wrenching story of innocence and faith betrayed, and joined by our attorneys from the New York-basedCenter for Constitutional Rights, we stood up and demanded the justice that has so long been denied. The New York Times called the filing "the most substantive effort yet to hold the pope and the Vatican accountable in an international court for sexual abuse by priests".
No doubt, many people of faith are shocked that we would accuse a world church leader of crimes against humanity – a man considered by many to be infallible. But the man who is infallible must also be accountable.
By the Vatican's own account, "only" about 1.5-5% of Catholic clergy have been involved in sexual violence against children. With a reported 410,593 priests worldwide as of 2009, that means the number of offending priests would range from 6,158 to 20,529. Considering that many offenders have multiple victims, the number of children at risk is likely in the tens, or even hundreds, of thousands.
We believe the thousands of pages of evidence we filed this week will substantiate our allegations that an operation has been put in place not only to hide the widespread sexual violence by priests in all parts of the world, but also to obstruct investigation, remove suspects out of criminal jurisdictions and do everything possible to silence victims, discredit whistleblowers, intimidate witnesses, stonewall prosecutors and keep a tighter lid than ever on clergy sex crimes and cover-ups. The result of this systematic effort is that, despite a flood of well-publicised cases, many thousands of children remain vulnerable to abuse.
While many pedophile priests have been suspended in recent years, few have been criminally charged and even fewer defrocked. Worse, no one who ignored, concealed or enabled these predators has suffered any consequences. At the head of this hierarchy of denial and secrecy is the Pope, who has served as an enabler of these men. We believe the Vatican must face investigation to determine whether these incidences have been knowingly concealed and clergymen deliberately protected when their crimes have come to light.
I know this story well, because I was sexually abused by a parish priest, from my time in junior high school until graduation. Because of the shame and trauma, several years passed before I was able to tell anyone. By that time, it was too late to file criminal charges. Church officials refused to restrict that priest's access to children or take action against him for several more years, despite other victims coming forward.
Indeed, powerful factors prevent all but the most assertive, healthy and lucky victims from seeking justice. Many others succumb to drugs, anorexia, depression or suicide when the pain of innocence betrayed becomes too much to bear. A recent investigation in Australia revealed a case in which 26 among the numerous victims of a particular priest had committed suicide.
For the safety of children and the prevention of yet more heinous wrongdoing, the International Criminal Court may be the only real hope. What other institution could possibly bring prosecutorial scrutiny to bear on the largest private institution on the planet?
Our journey for justice has been a long one, and it's not over yet. But we know where it must end: with justice at The Hague.
http://www.guardian.co.uk/commentisfree/cifamerica/2011/sep/17/pope-clergy-sex-abuse-hague

___________________________________________________________________________
Join the International Movement to Stop Church and State Terror –
Commencing September 15 – October 31, 2011
Where the Buck Stops – Elizabeth Windsor and Joseph Ratzinger: Wanted for Complicity in Crimes against Humanity
Tribunals to be convened in London, Dublin, Brussels and Rome on September 15, 2011
The ITCCS Executive announced today that its member organizations plan to convene opening sessions into crimes of church and state in four European capitals on September 15.
"These cities are all very close to the scene of the historical crimes we'll be investigating, and are home to the institutions that have been summoned to appear at our Tribunals, such as the Vatican and the Crown of England" said ITCCS Executive official Dr. Eduardo Rosario today at a gathering in London.
"We look to the European Parliament and its Human Rights courts to aid us in our deliberations, and we deliberately chose to meet in Brussels to seek such help from the European Union."
Pope Joseph Ratzinger and Queen Elizabeth Windsor have both been issued a Public Summons by the ITCCS to appear before it in September and answer charges of their complicity in crimes against humanity, genocide and child trafficking.
The ITCCS has the endorsement of over thirty organizations, including eight indigenous nations in North America and Asia, survivors of Catholic church torture in Ireland, Australia and England, and the autonomous sovereign nation of Eurostaete.
Other Tribunals associated with the ITCCS will also be convened on September 15 in Vancouver, Toronto and Ottawa, Canada, in New York City, in Mexico City, and at venues in Australia to be announced.
http://itccs.org/2011/06/09/the-gathering-storm-of-justice-from-victims-to-warriors/
© 2011 – 2012, Ready For The Shift. ™ Wendy & Greg Zangari, All rights reserved. Permission is granted to copy and redistribute these articles on the condition that the content remains complete and in tact, full credit is given to the author(s), and that it is distributed freely.
« Movie: The Quickening Indigenous People Issue a Public Banishment Order to Get Back Their Churches »